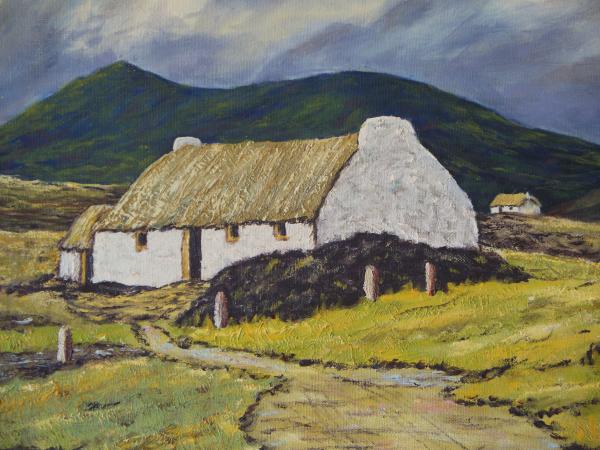 Before the famine
On the western tip of Europe
reaching out to Dingle Bay,
a cottage sits, thatched, gilded and always lit up
by the influence of God, or by rainbows
from the mountain rains and the sometimes sun.

Did I dream you into being?

Lying overgrown and ripe, in need of care,
your mellow garden is steeped in wild flowers
while turf is stacked against your stony walls.
Through a wooden door of oxblood red
you welcome me quietly into chiaoscuro light.

Ancestral memories have always sung to me
of your whitewashed walls and your truckle bed.
Now I yearn to sleep there by the glow of oil lamps
in the little alcove beside your hearth.
There, upon your paved floors of slate, lasting and true,
are patchworks and flowers,
a scented geranium in a metal pail.
A crucifix hangs upon a wall,
a rosary by its side.
A meal has been laid on the table:
there are foods that are staple:
potatoes, bread, butter in churns
and the purest honey from the hive.
Cait O'Connor
Painting by
James Anderson