Nothing changes until you do.
Anon
Dear Diary,
I love this painting.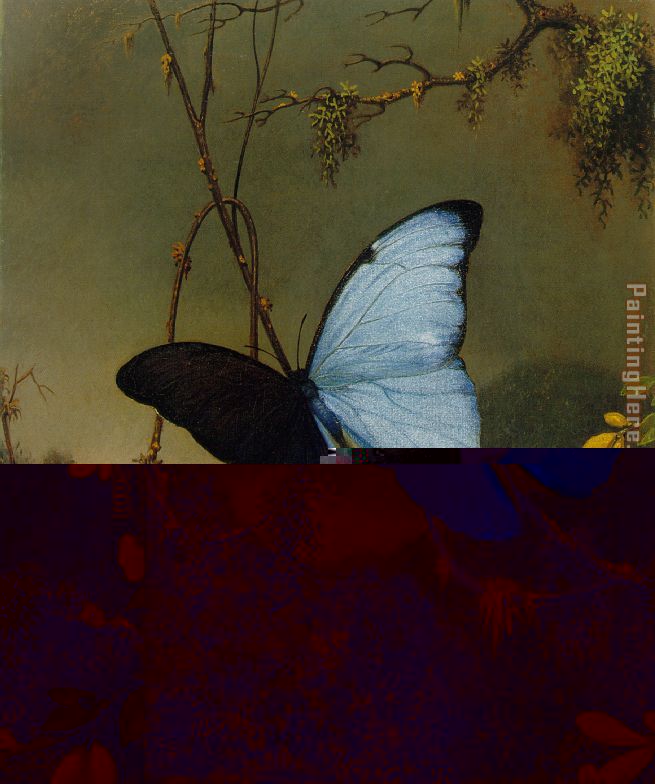 Blue Morpho butterfly
Martin Johnson
I read an interesting blog post about butterflies
here
and it coincided with me already having decided to write today about two Red Admirals that are hibernating in my bedroom of all places. We lived in an old Welsh farmhouse before we lived here in our little riverside cottage and the odd Red Admiral would often appear flying around inside that home during the winter. The first time one appeared coincided with a family bereavement and I was convinced it was their spirit – they are reputed to be spirits of the dead if they are indoors – perhaps they are, who knows?
As I lay in bed the other morning I looked up to the beams in the corner of my little bedroom and saw an unusual sight, not one but two butterflies
cwched
up closely on the beam together (Welsh word meaning
snuggled).
The following morning one had moved a little bit lower down (had they fallen out?) but lo and behold by the evening the other one had moved down to join the other and they were close again. Could they wake up and go back to sleep? I have no idea how hibernation works but it often appeals to me in the depth of Winter, usually in December around Christmas time……..(bah Humbug)….
I researched online what I should do if I find a butterfly hibernating in the house and it seemed to say that I should move it outside to somewhere 'safe' where birds can't find it, not too cold, not too warm, it all sounded rather impossible to me so for now I am leaving them. One site suggested making up some nectar (?) and feeding them before I put them outside to sustain them through the cold weather. And apparently when they do wake they will be hungry and there will be no food for them in the cottage. I think when they wake I will put them outside then; I hope I am doing the best thing.
I grew up in South London and don't remember seeing many butterflies to be honest but I always had the impression that butterflies only lived for two days, where that came from I don't know but it stayed with me nearly all my life until I found out it was not true - just another childhood illusion shattered.
I shall leave you with a poem by the late John O'Donoghue. Its title is
November
and the theme is the coldness and melancholy of the season and I feel a need for 'hibernation' within it.
However it may be November but today it is so warm that I have no heating on at all so the poem does not really fit the day or my mood. They tell me colder weather is on its way but I am making the most of these balmy, happy days for even the sun is shining now…..the rain showers have passed away from us. I very much hope all is fine with you too, in every way.
November
November's hunger strips the fields, its thin light
rifles the web and warmth of every nest
allows the cold day to invade each secret,
absolves the ghosts of leaf that outlast autumn.
Now I can depend less and less on the grace
of spontaneity, talk quickly tires,
words become contrived, as they eyes of others
notice my mind unravel in this sallow light.
Intense with silence my room waits for me,
the paintings and open books grown distant,
its window one huge eye on the tree outside;
in the mirror the glimpse of my face draws tears.
John O'Donoghue
Bye for now,
Cait.